The multipurpose, single-engine AS350 B2, has an outstanding proven track record. Its flexibility make it a very sought-after helicopter capable of performing a wide range of missions

Description
Multi-tasks helicopter capable of performing passenger transportation, aerial work, training, observation and firefighting, among others.
With its spacious and comfortable cabin accommodating one pilot plus up to 5 passengers, the AS350 B2 is especially appreciated for its passenger transportation capabilities for tourist flights and public service tasks. Furthermore, its wide cabin and panoramic view ensures optimum visibility for both passengers and crew.
Specification
The AS350 B2 is an excellent utility helicopter able to carry external load of more than 1 ton (2,200 lbs). Thanks to its high useful load, it is well suited for all missions requiring various types of equipment including; medical transportation and utility operations. With a very short reconfiguration time (less than one hour), this single-engine helicopter is able to complete various missions quickly and efficiently.
General characteristics
Crew : 1 pilot
Capacity : 5 passengers
Length : 10.93 m (35 ft 10½ in)
Rotor diameter : 10.7 m (35 ft 1 in)
Height : 3.14 m (10 ft 3½ in)
Empty weight : 1,174 kg (2,588 lb)
Max. takeoff weight : 2,250 kg (4,960 lb)
Powerplant : 1 × Turbomeca Arriel 2B turboshaf
Performance
Never exceed speed : 287 km/h (155 knots, 178 mph)
Cruise speed : 245 km/h (132 knots, 152 mph)
Range : 662 km (357 nmi, 411 mi)
Endurance : 4.1 hrs
Service ceiling : 4,600 m (15,100 ft)
Rate of climb : 8.5 m/s (1,675 ft/min)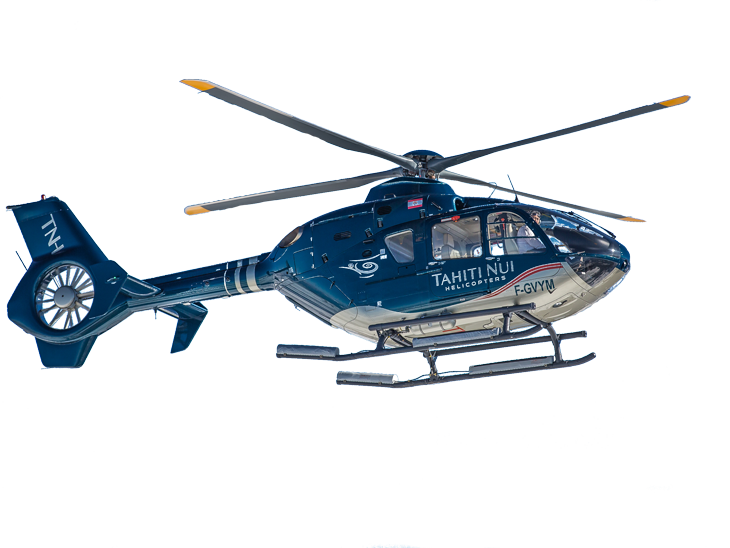 Airbus Helicopters H135 (old Eurocopter EC135) is a twin-engine light utility helicopter produced by Airbus Helicopters. It is mainly used for private transfer and helicopter emergency medical services.
Description
The H135 is a member of Airbus' light-medium EC135 family of helicopters.
Fitted with a bearingless main rotor, Airbus' signature Fenestron® shrouded tail rotor, engine software modifications, the H135 provides additional payload and delivers best-in-class performance throughout its flight envelope.
The both engines provide outstanding performance and vital power reserves – even in one-engine inoperative scenarios – along with low fuel consumption.
The H135's state-of-the-art cockpit environment provides the highest possible safety levels. The avionics system designed by Airbus offers operators undisputed superiority for pilot assistance and situational awareness – resulting in unprecedented flight safety levels.
Specifications
As one of the quietest helicopters in its class, the H135's noise footprint is markedly lower than older-generation helicopters in the same category.
The H135 remains a reference in emergency medical services (EMS) providing ample room for single-patient or dual-patient transport.
H135 passengers enjoy an exceptionally fast and smooth ride with extraordinary views.
General characteristics
Crew : 1 or 2 (pilots)
Capacity : 6 passengers max
Length : 13.03 m (42 ft 9 in)
Rotor diameter : 11.0 m (36 ft)
Height : 3.45 m (11 ft 4 in)
Empty weight : 1,792 kg (3,951 lb)
Max. takeoff weight : 3,585 kg (7,903 lb)
Powerplant : 2 × Turbomeca Arriel 1E2 turboshafts
Performance
Never exceed speed : 268 km/h (145 kt, 167 mph)
Cruise speed : 246 km/h (133 kn, 153 mph)
Range : 680 km (370 nmi, 426 mi)
Service ceiling : 5,240 m (17,200 ft)
Rate of climb : 8.1 m/s (1,600 ft/min)