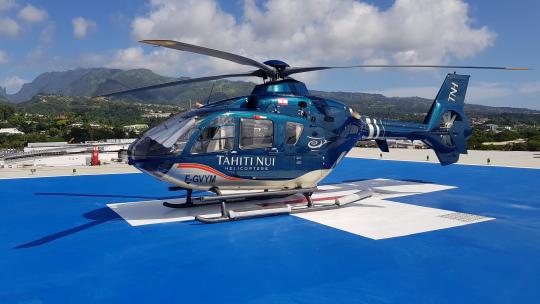 Since the helipad at the Tahiti hospital centre came into service, the helicopter has been able to demonstrate its effectiveness in terms of medical evacuations.
Following the closure of the previous company, only the helicopter of the armed forces could meet these needs.
Hired on request by the SAMU or private medical regulations, Tahiti Nui Helicopters provides helicopter transport for urgent interventions or inter-hospital transfers from the dispensaries.
Patient comfort is linked to the reduction of vibrations on board the helicopter, comfort provided by our H135 in EVASAN version. The disadvantage of noise is easily limited by wearing a suitable headset.
Speed of intervention is the factor most often highlighted for the use of this vector. Helicopter-borne transport reduces transport time to the hospital with the appropriate technical platform.
The medical helicopter helps to speed up the patient's hospital admission time.